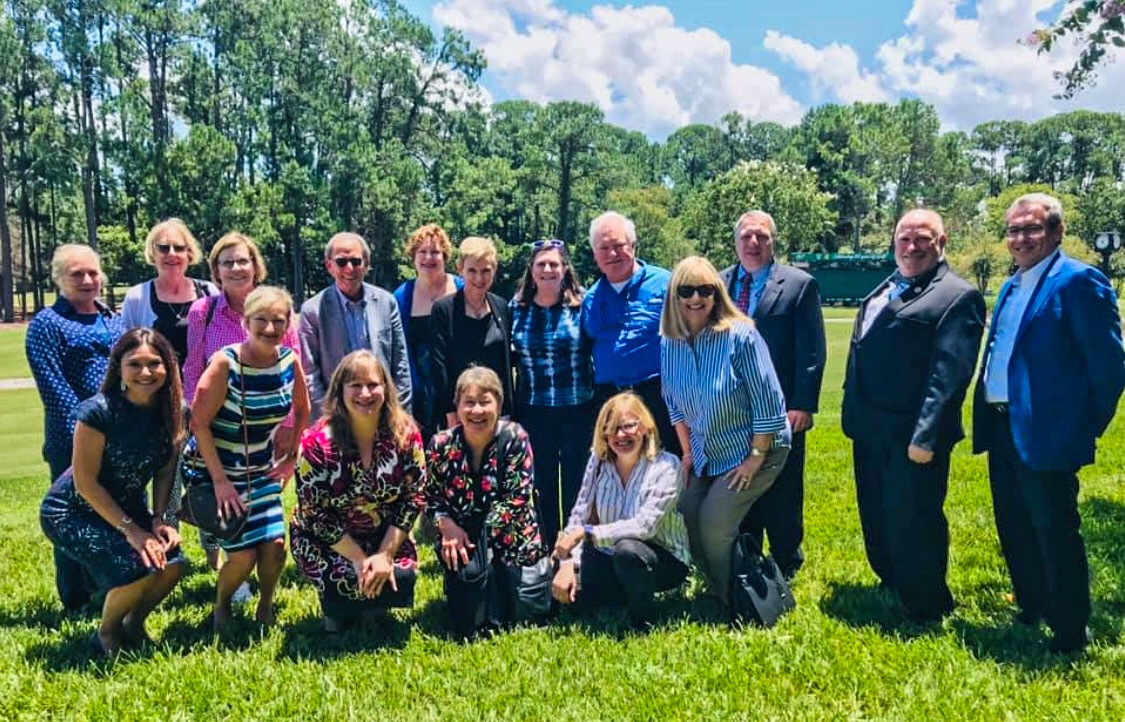 Who are all these people?  People who want to put an end to the student loan crisis.  Most are Bankruptcy Judges from the Middle, Southern and Northern Districts.  The rest are us committee members who helped to put in place a new Student Loan Modification Program which goes into effect September 1, 2019 for the Middle District of Florida.
As I like to put it, the idea behind the Student Loan Modification program is to: 1) increase communication between bankruptcy debtors and student loan servicers; 2) increase awareness of various options available to reduce student loan debt; and 3) end the needless forbearance and accrual of yet more debt in bankruptcy by providing easier access and instructions for federal programs as well as mediation opportunities for private student loans.
I have a few trainings scheduled in the near future for other bankruptcy attorneys who have requested this:
8/9/19 7:30 a.m. Clearwater Bankruptcy Section Meeting at Tiffany's Restaurant in Palm Harbor – limited seating RSVP at www.clearwaterbar.org.  "New Procedures for Student Loan Modifications".  Cle credit 1.0 pending.  Presenter:  Christie Arkovich
8/26/19 Orlando – 9:00 a.m. – 4:00 p.m. –  Student Loan Modification Workshop
The new MDFL Student Loan Program effective 9/1/19
Demonstration of Student Loanify & review of IDR programs
Demonstration of DMM's SLP Portal
How to determine if a debtor should apply for modification
Chapter 13 Plan placement, plan language and doing the math!
What is unfair class treatment?  How to overcome it?
Recertify each year – additional fees permitted
Mediation and defenses for private student loans
$1,500 no look fee and $250 annual recertification
The speakers will be:
Laurie K. Weatherford, Chapter 13 Trustee, Orlando Division
Robert B. Branson, Esquire
Tammy Branson, Senior Paralegal
Liz McCausland, Esquire
Christie D. Arkovich, Esquire
7.0 CLE, cost $349 atty; staff member $249.  Early bird registration ends 8/18.
9/12/19 Volusia County Bar Association, Lunch 11:30 – 2:00 Daytona Beach Airport, 700 Catalina Dr., Daytona Beach  – "Student Loans Should Not Be A Life Sentence".  This will cover mostly non-bankruptcy options for both private and federal student loans.  Presenter:  Christie Arkovich.
10/4/19 – TBBBA luncheon – New Student Loan Portal and Chapter 13.  Presenters:  Christie Arkovich, Kelly Remick, Chapter 13 Trustee.
11/7/19 NACA webinar working title "Discharging Private Student Loans in Bankruptcy".  Presenters:  Christie Arkovich and Austin Smith
The reason why this Student Loan Portal is so important is because there is a huge disconnect between debtors, debtor bankruptcy attorneys and their student loans.  There is hardly any guidance about what to do about student loans throughout the bankruptcy process.  Although student loans are listed on the bankruptcy schedules, there is uncertainty about what this actually means.  Was the debt discharged?  Does it still remain?  Has interest still accrued?  Who has my loans?  Do people get credit for the years of public service while they were in bankruptcy but working full time as a teacher for instance?  Confirmation orders are equally vague when they usually say some student loans may be discharged.  What all this leads to is no contact for fear of violation of the automatic stay, and years of forbearance which leads in turn to greater debt.  The bankruptcy debtor walks out of bankruptcy court with a "false" start instead of a "fresh" start because even though the house, car and credit cards may be back on track, the student loans are now $150,000 instead of  $100,000 and who knows who has them.