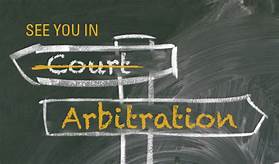 Many consumers aren't aware that when they sign up for a service, or buy a product, that they are agreeing that in the event of a dispute that the parties will be referred to arbitration.  These clauses often waive the consumer's right to go to court, present their case before a jury or file a class action.  Most consumers have no idea that this is part of the contract.  To add insult to injury, often the creditor retained the right to file its own collection case in small claims or county court.  How is this legal you may ask?
Well that topic is for another day, most courts will uphold an arbitration clause.  However, there are ways around an arbitration clause by arguing that the clause doesn't apply.  This would be in the event that the plaintiff bringing a lawsuit is not actually a signatory to the lease or contract.
Arbitration is party specific.
Rose v. M/V "Gulf Stream Falcon", 186 F.3d 1345, 1350 (11th Cir. 1999)
World Rentals & Sales, LLC v. Volvo Constr. Equip. Rents, Inc., 517 F.3d 1240, 1244 (11th Cir. 2008)
Traditional principals of state contract law determine whether an arbitration agreement can be enforced by or against a non-party. Lawson v. Life of the S. Ins. Co., 648 F.3d 1166, 1170 (11th Cir. 2011); Arthur Anderson LLP v. Carlisle, 556 U.S. 624, 129 S. Ct. 1896, 173 L. Ed. 2d 832 (2009).
State case law: In Florida, as a general rule, only the actual parties to the arbitration agreement can be compelled to arbitrate.
Any benefit to a non-party must be more than incidental or consequential:
German v. Age Inst. of Fla., Inc., 912 So.2d 590, 592 (Fla. 2nd DCA 2005); Metro. Life Ins. Co. v. McCarson, 467 So. 2d 277 (Fla. 1985) (nonsignatory to an arbitration agreement may be bound to arbitrate if the nonsignatory has received something more than an incidental or consequential benefit of the contract).
Benefit alone is insufficient. Mendez v. Hampton Court Nursing Ctr., LLC, 203 So. 3d 146 (Fla. 2016) (the third-party beneficiary doctrine does not permit two parties to bind a third – without the third party's agreement – merely by conferring a benefit on the third party).
A.D. v. Credit One Bank, N.A., 2016 U.S. Dist. LEXIS 110393 (N.D. Il. Aug. 19, 2016) (the benefit was not the item purchased by the nonsignatory on the credit card, but rather the fact the contract contained a provision permitting the nonsignatory to use the card at all).
The arbitration clause only applies to claims arising under the contract:
Garcia v. Kakish, No. 1:17-cv-02573, 2017 U.S. Dist. LEXIS 1613686 at *1 (E.D. Cal. September 28, 2017) the Court found the non-signatory plaintiff was estopped from avoiding the arb agreement b/c his claims were "factually and legally intertwined with the contract".
Collusion. Perdido Key Island Resort Dev. LLP v. Regions Bank, 102 So. 3d 1, 3-4 (Fla. 1st DCA 2012) (Court refused to force nonsignatory to arbitrate absent "concerted conduct," fraud or collusion between one of the signatories and the nonsignatory).
Binding third parties should be done sparingly. Bridas Sapic v. Gov. of Turkmenistan, 345 F.3d 347, 358 (5th Cir. 2003) the Court found that arb agm'ts apply to nonsignatories in only rare circumstances.
See Candy Ray v. NPRTO Florida, LLC d/b/a Progressive Leasing, Case No.: 5:17-CV-00415-JSM-PRL (Motion to Compel Arbitration, Response and Order).