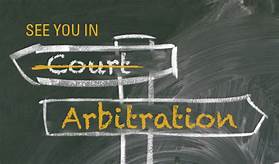 Many consumers aren't aware that when they sign up for a service, or buy a product, that they are agreeing that in the event of a dispute that the parties will be referred to arbitration.  These clauses often waive the consumer's right to go to court, present their case before a jury or file a class action.  Most consumers have no idea that this is part of the contract.  To add insult to injury, often the creditor retained the right to file its own collection case in small claims or county court.  How is this legal you may ask?
Well that topic is for another day, most courts will uphold an arbitration clause.  However, there are ways around an arbitration clause by arguing that the clause doesn't apply.  This would be in the event that the plaintiff bringing a lawsuit is not actually a signatory to the lease or contract.
Arbitration is party specific.