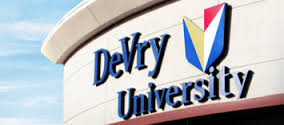 DeVry University just agreed last week to a $100 million settlement as reported by the FTC.  We are seeing more of our Florida student loan clients start to question their education at DeVry and starting to understand why they haven't been able to find employment that they were led to believe was likely upon graduation.
This settlement includes $50 million in debt relief—they've agreed to forgive all private unpaid student loans that DeVry issued to undergraduates between Sept. 2008 and Sept. 2015 ($30 million) and forgive an additional $20 million in past student debts for tuition, books and lab fees.
DeVry will pay $49 million to qualifying students who were harmed by DeVry's deceptive ads.  That raises the question: exactly who are these "qualifying students"?  The FTC notice simply says that the $49 million will provide a partial refund to students who paid for DeVry classes.  So if you are a former student of DeVry you may start receiving correspondence relating to these partial refunds.
With the large numbers of DeVry folks out there, this may not amount to all that much.
Other avenues of relief are available that I'd like to help get the word out – and I ask that you share this post on Facebook, and any other social media outlet you belong to.  One, the new federal Borrower Defense to Repayment application process was finalized on Nov. 1, 2017.  We are now filing applications here in Florida for former students who claim to have been misled by DeVry as to job placement rates, job placements services and accreditation.  This will be used to try to discharge federal loans – for former DeVry students.  For some reason, some people believe this discharge is only available for students attending a school within 120 days of its closure.  This DTR is available for a much longer period.  It isn't for only closed schools.  If you can show that you learned of the fraud within the past 4 years and relied upon these fraudulent statements in deciding to attend DeVry, you may be able to go back as far as 12 years to discharge federal student loans.
Second, there is class action potential for the false advertising by DeVry.  We are investigating filing such a case in Florida, and there is one pending in Illinois already with class members located in several states (Arizona, Colorado, Kansas, Missouri and Oregon).  That case is styled DeVry False Advertising Class Action Lawsuit is Petrizzo, et al. v. DeVry Education Group Inc., et al., Case No. 1:16-cv-09754, in the U.S. District Court for the Northern District of Illinois in case anyone is interested.
Basically, DeVry marketed that it had a 90% job placement record for all of its graduates.  They used print advertisements featuring "Join the 90%", to lure students to apply to DeVry.  Former students allege that these job placement figures were a farce.  The class action and FTC allege that the numbers included people who continued working the same job after their DeVry attendance that they worked before.  The numbers also included people working in all sorts of areas outside of their field study, including food service, customer service and even unpaid volunteers.  For example, DeVry would count a waiter in a restaurant as a working graduate who was working in their field of study, even though the individual obtained a degree in business administration with a specialization in health services.  How many of us would pay $50-100,000 for those types of degrees to work as a waiter at Applebees?
In Florida, we have an excellent law called the Unfair and Deceptive Trade Practices Act.  It protects against misleading advertisements and statements such as this.  DeVry students had very little chance of getting a job – certainly nowhere near the 90% figures touted by DeVry.
If you have questions about your student loans and you attended DeVry, please contact us for further information at Arkovich Law  We are here to help students take control of their student loan debt, one way or another!