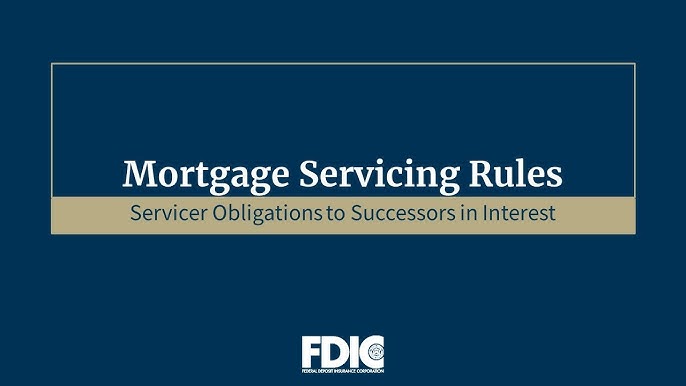 Back in the 2008 foreclosure crisis, one of the biggest problems was the lack of assistance for those who were not on the deed (such as following a death or divorce).  Now there are new rules in place for successors in interest for instances where the homeowner may have died or transferred the home via a divorce decree of some sort.  These new laws allow the "new" homeowner to unilaterally assume the role as successor in interest.  Importantly, it does not require consent by the lender.  In some cases, the "new" homeowner does not have to assume the mortgage loan.
Successor in interest means a person to whom an ownership interest in a property securing a mortgage loan subject to this subpart is transferred from a borrower, provided that the transfer is:
(1) A transfer by devise, descent, or operation of law on the death of a joint tenant or tenant by the entirety;
(2) A transfer to a relative resulting from the death of a borrower;
(3) A transfer where the spouse or children of the borrower become an owner of the property;
(4) A transfer resulting from a decree of a dissolution of marriage, legal separation agreement, or from an incidental property settlement agreement, by which the spouse of the borrower becomes an owner of the property; …
In order for the mortgage servicer to offer opportunities to bring the balance current or other methods to retain the home, you may first have to document that you are indeed a successor in interest.  Until you can confirm that you are the lawful successor in interest, a mortgage service may ignore you.  This may include things like:
A copy of the deed
A copy of the divorce decree
A copy of the will or affidavit and death certificate
A court order showing you are the heir
A trust agreement signed by a trustee giving you authority over the property
A big problem of the last foreclosure crisis was that a mortgage servicer would not give answers or share information with a successor in interest.  Spouses and heirs had to move out and give up property unnecessarily.  This has changed.  Once it is established that you are a successor in interest, the servicer must send  successors in interest disclosures which may include information about:
Escrow accounts
Mortgage servicing and transfers
Error resolution
Force-placed insurance
Loss mitigation
Payoff statements
Periodic statements
Perhaps most importantly, a servicer must review and evaluate a loss mitigation application if it is complete even from a successor in interest (once that is confirmed).