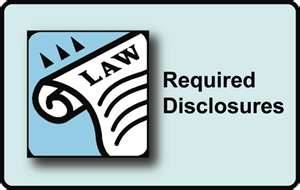 Too late for many, but at least a step in the right direction, Senator Al Franken (D-Minn) introduced the Understanding the True Cost of College Act on May 24, 2012.
Were you aware that the Truth in Lending Act which requires disclosure of the cost of credit in home and vehicle purchases specifically excluded student loans? I just found this out myself. An education is an expensive purchase. If you make the wrong decision, bankruptcy is not available in most cases to simply give it back. But yet the powers that be decided that students and their parents didn't need to be informed when making decisions as to what college to attend and how much financial aid to obtain.
This bill is intended to attack the complete lack of transparency that currently exists. Instead of wondering how this could have happened during the exit interview, basic minimum information will be required to be disclosed PRIOR to incurring the debt. Things such as the costs of tuition, fees, room and board, books and supplies, the amount of financial aid that the student does not have to repay, and the net amount the student will have to pay.
Colleges and universities will have to share their default rate. Nowadays where one out of three students are defaulting in their student loans, this may make a student or the parent step back and say "Whoa, let's think about this".
Finally, all schools will have to disclose that federal student loans offer more favorable terms and repayment options for the most part than private loans. This would include interest rates, forgiveness programs, income based repayment, default provisions etc. Please see our Student Loan Survival Center for more information about these options.
Clear descriptions of the process will be required including whether the financial aid is based on full-time or part-time enrollment. Other information helpful to students and their parents such as the average debt at graduation a student has at that institution. Then parents and students can better make informed decisions. When I graduated from law school I owed $45,000 debt and my first job paid $40,000 annually. Roughly a 1 to 1 ratio. Students armed with information about the true cost of college can compare this to the expected salary range upon graduation and make smart choices.
Other required disclosures: If a student is offered private loans, a statement as to the availability of federal loans; a statement that a student can choose a private lender of the student's choice, an explanation of the right to accept or reject certain aid and a three day right to cancel period.
This Act is only in the works, it is in the early stages as it was only introduced in the Senate less than 60 days ago. It provides that the effective date would not be until 8 months after the Secretary of Education finalizes its forms if passed. In the meantime, nothing prevents a student or parent from requesting this information directly from the school. A school that is unwilling to provide disclosures such as those listed above probably isn't a school worth going to in my opinion.
For those students who have not had the opportunity to make smart decisions about their student loan debt and think that America has cheated them (a phrase I just read and liked from an online comment to a news article), well you aren't far from the mark. However, there is good news on the horizon, there are several federal loan repayment options to help reduce student loan debt. However, they are not well publicized and not surprisingly there are traps for the unwary. Be smart about it and get legal advice from a student loan attorney who has taken the time to learn about these programs and the interaction between them. Please view our Student Loan Survival Center for additional information.