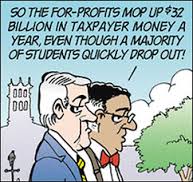 In our Florida student loan law practice, we see everyday the nightmarish situations our former students have gotten themselves into.  One this week has me researching the differences between national versus regional accreditation.  I've been a lawyer for 20 plus years and I hadn't even known what this meant.  My basic thought was accredited is good right?  And no accreditation is bad.  Should be simple, just make sure you go to an accredited school.  Wrong.
Actually, there are different types of accreditation which are commonly referred to as national versus regional.  Again, you'd think national would be good right?  But, no, regional is far better.  For a client, a "national" accreditation means a much higher default rate (twice as many defaults in repayment of student loans) b/c the B.S. or B.A degree they studied hard for is not really worth what they thought it was.  See a September 8, 2015 Center for American Progress Analysis RELEASE noting troubling high student loan default rates among colleges accredited by national accreditors.   Default rates are important:  they are another way of telling us that the education received has not warranted the student loans sought to be repaid for that education.  If a student is unable to obtain employment in their field due to the inadequacy of their education, they are much more likely to not be able to repay their student loans.
Now, over 100k in student loans later, my client is faced with having to get a "replacement" B.S. degree if they hope to ever move up in their employment just because he chose a school, International Academy of Design and Technology, ("IADT") that he thought was accredited, but was actually "nationally" accredited by the Accrediting Council for Independent Colleges and Schools.  Our client was turned down a job specifically because of the type of accreditation behind his degree.  Even though he was one of the lucky ones to have graduated (for-profit schools have a high dropout rate), it has done him no good whatsoever.
This problem was brought to light in the most recent Forbes article titled Black Arts:  The $800 Million Family Selling Art Degrees and False Hopes.  This expose' about a for-profit art school in San Francisco brought to light the questionable value of these art degrees and the huge student loan debt that has financed a 250 classic car and real estate empire for the school's owners.  The tremendous interest of readers in this area was clear in the Forbes Interest Graph that showed 259,082 page views versus the 1,159 views for an article about Katrina ten years later.
But how do we hope to address this?  Legislative laws requiring adequate disclosure and explanation of the various types of accreditation, the default rates post-graduation, the average amount of student loan debt for that school, employment rates, pay scales etc.  When our client attended the "nationally" accredited for-profit school here in Florida, it was disclosed in the glossy brochure that the accreditation was by the Accrediting Council for Independent Colleges and Schools which is nationally recognized by the U.S. Department of Education and by the Council for Higher Education.  Sounds pretty good.  Would my client attend this school knowing what he does now?  Not. A. Chance.
For post graduates with student loan debt, this problem is slowing coming to the forefront.  The DOE discharged Corinthian debt for certain students when arguments were presented by the California Attorney General that the education received by this school was a farce.  But there are hundreds if not thousands of for-profit schools.  For many of those schools, they are still pumping out questionable degrees, nothing has changed even after Corinthian failed.  Administrative discharge is available for closed schools but only for students who attended the school within 120 days of its closure and an inability to transfer credits to another school.  This is an inadequate remedy for the problem.
As recently as June 2015, as noted in a New York Times article, Senator Elizabeth Warren chastised the U.S. Department of Education for a failure to enforce federal higher education rules at the expense of millions of students victimized by questionable for-profit colleges and student loan servicers.  One of her recommendations is to move the oversight from the DOE to the Consumer Financial Protection Bureau.  Her argument is "[w]e don't trust a bank to handle its own complaints, and we shouldn't trust the federal student loan program to do it either."  The CFPB has successfully investigated and fined banks, mortgage servicers, and all kinds of other financial service entities in its short history and has made a real impact.  Right now the DOE wolf is running amok in the hen house and is eating all the chickens (student loan borrowers).
Navient, formerly Sallie Mae, has already been cited for noncompliance with federal law.  The Department of Justice and the FDIC hit Navient with a $100 million fine last year for failing to cap interest rates on federal and private loans for members of the armed services.  But the DOE still contracts millions of student loans to Navient arguing that it would require extensive paperwork to cancel the governmental contract with Navient and transfer all those loans to new servicers.  In other words, Navient essentially is another too big to fail entity.
Our court system is not the best forum to make these arguments.  Courts actually have a policy to not question the quality of education.  It's called the Judicial Academic Abstention Doctrine.  Violations of the Higher Education Act do not raise a private cause of action for consumers.  We can try to assert an undue hardship in federal bankruptcy court.  We can try to argue that the school loans should never have been guaranteed and that the guarantor of the loan – the DOE – should not be collecting the loan.  We can argue that the school should not have been found eligible and was improperly certified.  But these are difficult, time consuming and expensive arguments for a broke student loan debtor to make.  Attorneys representing student loan victims are not independently wealthy to finance this type of litigation.  A recent class action filed in Tampa, Florida was ordered to binding arbitration following an arbitration clause in the IADT Enrollment Agreement.
There are no known lawsuits ever filed against an accreditation agency according to NCLC'S Student Loan Law publication.  Similar to the mortgage meltdown, where the companies charged with rating debt, bonds and other financial securities were under fire for their overly exuberant AAA ratings, the agencies in charge of verifying the accreditation compliance of for-profit schools should be investigated.  To my knowledge, there are no pending investigations against these agencies.  College accreditation agencies get their money from the very colleges they are asked to rate as noted by the Campaign for America's Future in its June 2015 article Exposing The College Accreditation Ripoff.   There are multiple reports over the years of the accreditation agencies investigating certain schools for compliance, but not one looking into the agencies themselves.  These accredited for-profit schools have tapped almost $10 billion in federal aid — all now placed on the backs of overburdened college graduates with questionable education.  The purpose of this blog post is to raise awareness and to argue that investigations into for-profit school accreditation agencies is long overdue.  Please consider forwarding this blog to your Representatives in Congress, State Attorney Generals, and other governmental officials.
Contact Arkovich Law. for additional information and visit our student loan survival center.