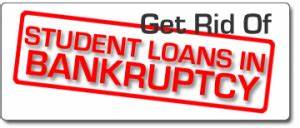 There are a ton of people who believed their student loans were discharged when they loans were simply listed in their bankruptcy.  It may have been years before the private student loan companies started to communicate with the borrowers to collect this debt which added to that impression.
As it turns out, there may be a way to argue this after all – in instances involving private loans.  Private student loan lenders have to prove their loans are in fact "qualified education loans" and meet other criteria in order to be exempt from a general discharge.  We are now filing cases where we do not believe the private lenders can meet this burden and the loans are and should have been considered discharged all along.  This opens the lender and servicer to a potential FDCPA and FCCPA case if it has tried to collect on previously discharged debt.  Moreover, it also opens up the lender to potential claims to refund monies paid toward these loans since discharge.
An easy way around this would have been for the private student loan lenders to have filed their own adversary actions in the debtor's bankruptcy to obtain a declaratory judgment that its loans were excepted from the general discharge.  However, this was never done.