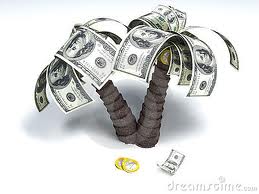 Mortgage companies in Florida must think money really does grow on trees as they are now suing for deficiency judgments on past foreclosures of homes. July 1, 2014 was the deadline in Florida for lenders to file deficiency lawsuits for foreclosure Judgments issued between July 1, 2009 and July 1, 2013. This is the result of the foreclosure bill last summer drastically dropping the number of years for a mortgage company to sue for a deficiency from five years to only one year.
So we've seen a flurry of filings from a couple groups: Dyck-O'Neal, Inc. and Collins Asset Group. The approaches have differed somewhat, Dyck-O'Neal files new actions for primarily FNMA while Collins substitutes plaintiffs and simply files a motion in an existing case that is likely re-opened to do so. Until recently, actions seeking a deficiency have been limited mostly to small local banks or credit unions. The Washington Post described Fannie and Freddie filing more deficiency actions through debt collection firms such as Dyck-O'Neil in order to stop strategic defaulters and try to collect debts on behalf of taxpayers. However, Dyck-O'Neal has been sanctioned in Georgia and Texas for improper actions.
Former Florida homeowners are just learning of this now when they are being served by process servers with a summons or a motion for deficiency judgment. Just when they thought their problems were behind them noted a recent Marketplace article.
It's important to hire an attorney to defend against these deficiency judgments. Many can be settled or reduced drastically in amount. The bank has to prove the fair value of the property at the time of the foreclosure despite a bid of perhaps only $100 to keep the doc stamps low at the foreclosure auction. The comps the bank uses for its one sided appraisal are often poor choices for the homeowner and can be disputed. Not all are like that, but we've definitely had reason to question the basis of many appraisals. Jurisdiction of the Court may be questioned if the homeowner has moved from the area, Florida Statutes Section 48.193 provides a list of circumstances for when someone can be sued in Florida. If the homeowner was previously served only by publication (in a newspaper that no one reads by the way), this may also be a defense. The homeowner may have previously obtained a deficiency waiver that is now being overlooked or ignored. If the foreclosure judgment was issued within the past year, there may still be challenges to it, such as the lender filing the original note five days after the hearing. Maybe only one spouse signed the promissory note and all their assets are now owned jointly as tenants by entireties. The potential Judgment amount may be miscalculated. Maybe there was a lack of diligence on the part of the bank such as pursuing a sinkhole insurance claim to offset its losses. Consumer laws may provide some protections if there was an unlawful attempt to collect the debt. There are many more potential defenses and plenty of room for negotiation.
Attorneys can offer advice regarding protection of assets and what you can and cannot do after being sued for a deficiency. Notwithstanding the Florida fraudulent transfer laws which have a look back of four years, there are safer places for monies other than a checking or savings account which can easily be garnished such as IRAs, 401ks, homestead, Florida Pre-Paid Tuition, annuities and life insurance. Bankruptcy may offer the best protection of all.
For short sales, the water is a bit more murky. There is doubt that the new one year limitation provided by the revisions to Florida Statute Section 95.11 even applies in a voluntary short sale. For clients who consulted with legal counsel and negotiated for a deficiency waiver, they are fine. For others who obtained a release of the mortgage lien, but not of the underlying promissory note, they may still be facing a full five year statute of limitations.
If you or someone you know is facing a deficiency motion or lawsuit, please contact Christie D. Arkovich,, P.A. for help.