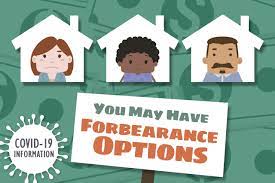 The CFPB stated today "[w]e are at really an unusual point in history.  I don't think anybody has ever before seen this many mortgages in forbearance at one time that are expected to exit forbearance all at one time."
No kidding.  This may be the calm before the storm type of thing if mortgage servicers don't get it right when all these forbearances end.
Living in Florida sometimes it seems like the pandemic is firmly in our rearview. While we are still working from home, it's mostly because we want to be part of the solution, and can get our work done with our cloud server.  But people are out and about pretty regularly now.
With so much stimulus money floating around and no federal student loan payments, people have been able to firm up their finances in ways that they never imagined possible – paying off car loans, clearing off credit card or other old debt, and actually establishing a savings account.
However, many people are fearful about what happens when that ever present shoe drops.  The CFPB is outlining a plan to prevent a sharp rise in foreclosures this fall.  The current proposal would:
Establish a pre-foreclosure review period once forbearance ends
Delay the start of any Covid-related foreclosure to 2022
Provide servicers with streamlined loan modification options
Revise servicer communication rules to keep borrowers better informed.
We certainly don't want a repeat of the 2008 foreclosure crisis that took nearly a decade to unravel.
Here is what you should know.  The deadline for borrowers affected by Covid-19 to request or extend a forbearance plan is June 30.  This is also the end of a foreclosure moratorium on federally backed mortgages.  For borrowers who are behind in mortgage payments now, it's imperative that you act before June 30 to ask for a 180 day forbearance, and if needed, a second 180 day forbearance.  This will get you a year.  If that isn't done, then the new CFPB rules would at least block servicers from filing a foreclosure lawsuit until after December 31, 2021.
During all of that, borrowers can take advantage of simplified loan modification options.  We can help with that.  
The new rules if they are approved, will apply to all mortgages, not just those that are federally backed.
Certain fees such as late fees and stop payment fees would be waived.  If a loan mod were to include any catch up payments, servicers will not be allowed to charge extra fees or interest on those payments.  The new rules would be in effect until August 31, 2022 — but are not expected to apply to smaller lenders with less than 5,000 loans.
If you would like to comment on the proposed changes, you have until May 10 to do so, for or against.  A copy of the new rules can be found here. You can comment online or via email — before May 10.
Federal eRulemaking Portal: Go to http://www.regulations.gov. Follow the instructions for submitting comments.
Email: 2021-NPRM-COVID-Mortgage-Servicing@cfpb.gov. Include Docket No. CFPB-2021-0006 in the subject line of the message.
Hand Delivery/Mail/Courier: Comment Intake, Bureau of Consumer Financial Protection, 1700 G Street, NW, Washington, DC 20552. Please note that due to circumstances associated with the COVID-19 pandemic, the Bureau discourages the submission of comments by hand delivery, mail, or courier.
And if you have a foreclosure filed against you, please see our website for actions you can take to avoid foreclosure.