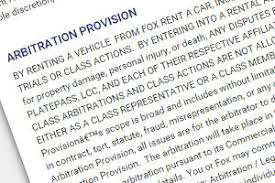 It's simple.  If you are wronged, you should be able to pick the forum to go after the lender, bank, student loan company, credit card company, car rental company, credit bureau, you name it — and that forum should include the local courthouse and not just arbitration.  The CFPB recently ruled that mandatory arbitration clauses in the fine print of your contract is wrong.  Now Congress wants to repeal that rule.
Call Your Senators; Tell Them NOT to Take Away Your Day in Court Against Big Banks.
For too long, Wall Street lawyers and lobbyists have used a secret tactic, fine print contracts, to take away Americans' constitutional right to go to court. After more than five years of studying and working on the problem, the Consumer Financial Protection Bureau issued a rule to restore our right to join together and hold big banks and lenders accountable in court for unlawful behavior that rips us off and puts the American economy at risk. When financial bad actors are not held responsible for their bad behavior, disasters like the Equifax data breach and Wells Fargo fake-account scandal occur.