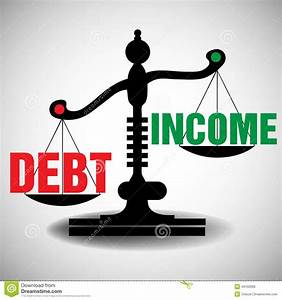 Debt is to be used sparingly.  It allows you to make purchases which you cannot afford.  In other words, debt allows people to live beyond their means or to spend more than they earn.  While this may appear to be a good thing when an emergency arises, there are serious side effects.  These side effects include 1) paying more for an item than what it's worth in the form of interest; 2) possible inability to pay off the debt; 3) added pressure and stress which can lead to medical and relationship problems; and 4) being a "slave" to your debt.
While some debt will always be necessary such as a home loan, usually a car loan, and a reasonable amount of student loans, it's important to only take on a modest amount of debt and have a plan for repayment.  Just because a lender wants to loan you money is not a good reason to take it.  Many college students took out excess student loans to pay for all kinds of stuff.  Unnecessary stuff.  With private loans in excess of 10% interest, that $5 latte easily turns into a $10 latte after a few years!
One client this week advised that she had incurred over 200k for a two year AA degree over a long period of time.  She's had a difficult life, and had to retake many courses and change degrees/schools etc.  That's perhaps one of the worst places to find yourself.  She cannot afford to return to school, and has almost no education to show for that debt.